Jump To:
Street Parking
Alternate Side Parking
The City suspends alternate side parking regulations, for both street cleaning purposes and traffic flow, on 34 legal and religious holidays.
Metered Parking Rates
Parking rates for vary across the five boroughs. Parking rates are posted on each parking meter and muni-meter, and the legal parking duration is posted in the top left hand corner of the green meter signs. Legal parking durations vary from 1 hour to 12 hours. Parking is generally free on Sunday. Always check signs carefully before parking.
New York City uses some of the most sophisticated parking equipment available today. All meters accept coin payment. Select muni-meters accept credit cards. Many meters allow you to pre-pay for parking using the NYC Parking Card, which you can purchase online.
Parking Regulations
DOT manages over one million traffic signs in New York City.
Parking Tickets
The New York City Department of Finance provides information on parking rules and what to do if you get a ticket. Parking enforcement is the responsibility of the New York City Police Department.
T-Intersections
The New York City Traffic rules allow parking at some "T" intersections—those without traffic signals, all-way stop signs or crosswalk markings—even if there is a curb cut at that location.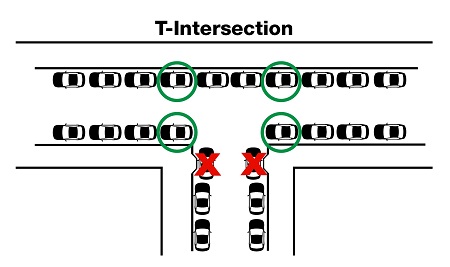 Curb Cuts
A curb cut is the area of a sidewalk that has been lowered, or cut down, to facilitate access to the street. If you would like DOT to consider a T-intersection for a crosswalk, visit 311 Online or contact your DOT Borough Office. Based on the location's distance from the nearest crosswalk and pedestrian volumes, DOT will determine whether a crosswalk can be installed.
Parking Availability Technology Pilot
DOT is partnering with three tech firms to launch the Parking Availability Technology pilot, testing state-of-the-art equipment that will wirelessly transmit real-time parking information to users. DOT is embedding sensors in 177 parking spots along Arthur Avenue and East 187th Street in the Bronx that can detect whether a parking space is vacant. If successful, the pilot has the potential to ease congestion by giving information on how many spaces are available on a particular block, reducing the amount of time spent cruising for a spot. The sensors are provided by ACS, IPsens and Streetline at no cost to the City.




Location of Space
Hourly
Rate
Minimum

Payment
The Bronx, Brooklyn, Queens, Staten Island
$1.00
25¢

(15 min)
Manhattan above 110th Street, and above 96th Street east of Fifth Avenue
$1.00
25¢

(15 min)
Manhattan west of Central Park from 96th to 110th Street
$1.50
25¢

(10 min)
Manhattan below 96th Street
$3.00
50¢

(10 min)
commercial vehicle spaces throughout the City
$4.00 (first hour)

$5.00 (second hour)

$6.00 (third hour)
Varies
PARK Smart NYC
PARK Smart is a program developed with the community to make parking easier while reducing congestion and improving safety. PARK Smart aims to increase the number of available metered parking spaces by encouraging motorists to park no longer than necessary. The meter rate is higher when demand for parking is greatest and decreases when demand is lower.

Learn more about Park Smart




PARK Smart Area

Hourly Rate

Greenwich Village
6:00 to 10:00 pm
$5.00
all other times
$3.00
Park Slope
noon to 7:00 pm
$2.00
all other times
$1.00